I had the great privilege of interviewing the amazingly talented Juan Carlos Bravo. JC was born in Ica, Peru and moved to Uruguay for a bit before landing in Florida. In this interview, JC talks about his background, inspirations, creative process.. and near the end, he tells us what he would wish for if a genie offered him 3 wishes. Ha! Now onto the interview!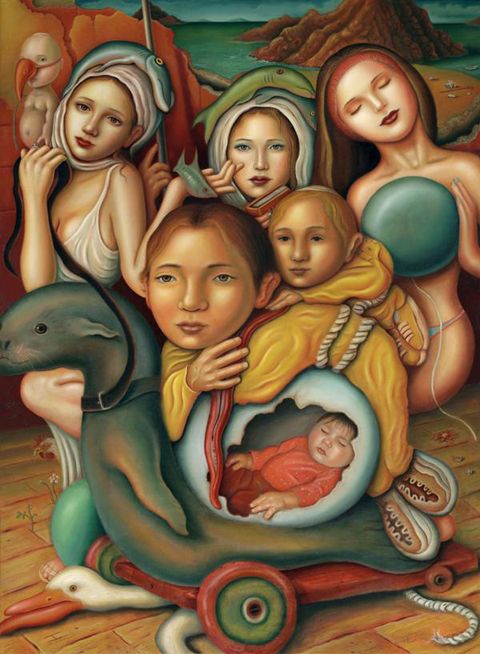 Honey: Hi JC. What purpose do you think art serves in our world?
JC: I believe art is the celebration of life and its purpose is to enlighten by teaching and inspiring. It is a form of communication where we can learn from one another. Besides entertainment, art should be an instruction manual on the human condition.
Honey: What led you to be an artist? Do you have any formal artistic education?
JC: It wasn't until college that I considered becoming an artist. I could always draw, so I took an elective course in drawing and the professor recognized my talent and encouraged me to consider a career in the field. She told me if I practiced an hour a day, that I could make it. So I decided to give it a try and I switched my major from Psychology to Visual Arts. I studied painting at Florida International University. Mainly my professors taught me about conceptual art and how to apply it in my creative process. Technically, I learned to paint on my own, through trial and error. I also have traveled to museums to learn from looking at master paintings.
Honey: How would you describe your work? Tell us about your style.
JC: I describe my art as tragic comedy. My work may be characterized as absurd and comical, sensual and spiritual, with a streak of the unconscious showing through and always bearing a deeper meaning. I rely on beauty to portray the darker side inherent in us all. I make beauty out of ashes. I term my style as Sensualism. I use the surrealist technique of automatism to establish my compositions and then develop it to a sensual finish. In other words, it is a form of sensual surrealism.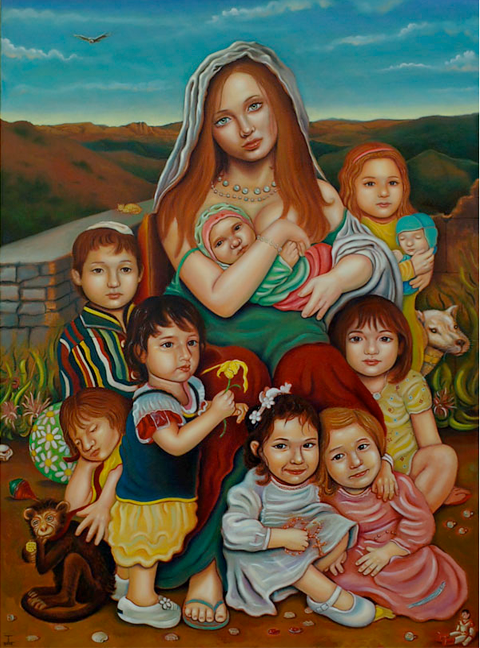 Honey: Can you describe to us your process of creating a new piece?
JC: I always begin in my sketchbooks. In my sketchbooks, I work out my ideas. Once I have a concept or an idea that inspires me, I move to paint. I work intuitively, trying to create a vision on canvas. I get pleasure in being able to create figures from my imagination and making them come to life through my work. Sometimes I use references to add realism and details. I paint in oil, applying thin layers of paint. Since oil takes a long time to dry, I try to work on several pieces at one time. While one canvas dries, I focus on the next. I rarely work on one piece exclusively.
Honey: How are the reactions on your work in general?
JC: The first thing most people do when they encounter my work is laugh. At first they don't know what to make of it. It's painted so beautifully but it depicts disturbing scenes. The tension is broken by laughter.
Honey: When are you most productive?
JC: I am most productive when I have peace of mind. I work best during moments when I am not thinking of responsibilities or temptations. There is so much one can do besides sitting by your easel and working that it is difficult to concentrate. Going to exercise or surfing at the sunny beach are a constant temptations.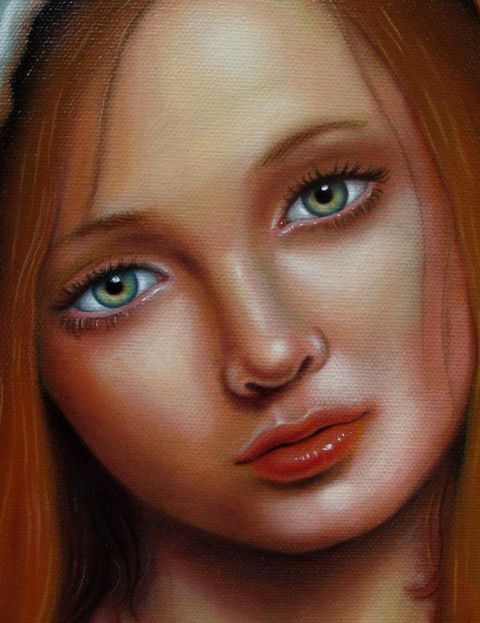 Honey: From where do you most like to draw your inspiration?
JC: I get my inspiration from daily life, observing others and experiences. Sometimes I get ideas from dreams or memories. Technically I get inspired by other artist works. Especially the old masters.
Honey: What do you think are some of the greatest challenges artists face today?
JC: Artists are being persuaded by so many forces that it is a challenge to find your own artistic voice. There are so many choices two dwell into that it becomes problematic. You can do conceptual art or illustration or low brow or movies or graphic design and photography and comics. The challenge is to find your artistic voice.
Honey: What's the art scene like in Miami?
JC: The Miami art scene is flourishing. A few years a go the Miami art scene was weak. There were a lot of vanity galleries and a lot of decorative art. Our most celebrated painter was BRITTO. But all that is changing with the emergence of Art Basel. Once a year, Art Basel comes to town and Miami becomes a carnival of art. We get to see high caliber work and art celebrities. This event has ignited the art scene and now we have serious galleries and quality emerging artists. We also have one of the best collections in the Rubell's Family.
Honey: What were you like growing up?
JC: I was very spoiled. I was the youngest of five children with three sisters and a brother. I was always surrounded by women. As a child, if I didn't get what I wanted I would bang my head on the walls or floor. I lived in Peru for the first eight years, when I moved to the US, I became withdrawn and rebellious. Displacement was hard on me but things got better once I learned the language. But I was a bit of a trouble maker and an occasional brawl or two kept things exciting.
Honey: Who are some of your favorite figures in art history?
JC: I love Bosch and Van Eyck. There are so many inspirations but if I had to pick the most influential on my art these two would top the list. I also love Rubens, Goya, Da Vinci, Picasso, Dali, Ingres and Bouguerau. Some modern artists would be David Lynch, Joe Coleman, John Currin, Mark Ryden, Charlie White and Louise Bourgeois.
Honey: If a genie would grant you 3 wishes, what would those wishes be and why? Hehe.
JC: To be financially secured for the rest of my life, that my daughter grows up healthy and finds happiness and that I die peacefully during sleep next to my wife.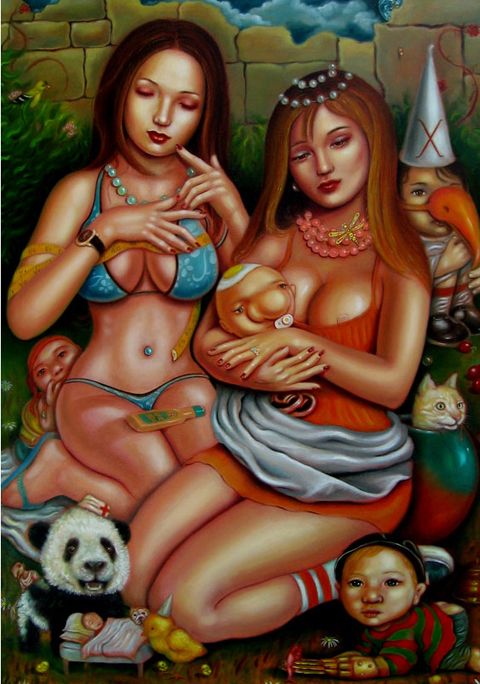 Honey: Any current or future projects that you could tell us about?
JC: I am currently working on a new series. My new body of work deals with vulnerability and longing. My abundant landscapes have been replaced by modern interiors. I am excited about it. These canvases have a sense of modernity and newness that's refreshing for me.
Honey: Final words? Anything you want to say to me?
JC: I thank you for the opportunity to speak to a new (your) audience and I encourage people to visit my website and check periodically for future shows and new works. The best is yet to come!!
Links here:
http://www.jcbravo.com/
http://www.myspace.com/jcthepoet
http://www.jcbravo.blogspot.com/