A few years ago, Julian James was known as that "kid [who] has lots of artistic potential". Now, he's the guy behind WhyIsBox, a successful online creative studio, New Sugar, an online art magazine expanding beyond its reach, and a DIY geneticist who manage to clone half of himself. He is now recognized by "the grownups" who used to tell him that "doodling will make you go blind". And if his upcoming project Monstar, which is a book based on a pen-and-paper game that lets you express your mad art skills with a twist, blows up with critics and fans alike, his cover may be blown forever.
Welshie: Hi Julian thanks for doing this interview. In a nutshell, who is Julian James?
Julian: Currently this is me although when my clone is finished it may be him.
Welshie: What's new with New Sugar?
Julian: Basically it is an online (PDF) magazine created to showcase untapped creative talent from around the world. And man, there is so much good stuff out there! I get excited on a daily basis looking through my inbox at new subs.
Blurb stolen directly from the NewSugar site (oh the joys of cut and paste):
NewSugar is a fresh new PDF magazine with a difference… it's not so much a magazine as it is a gallery, or a street wall or maybe a glimpse of the future. Whatever it is NewSugar promises to make you weep with delight and have your mind-box releasing endorphins in profusion*!
*Weeping and release of endorphins not guaranteed.
Welshie: You've been publishing New Sugar for 6 months now, what was the motivation behind creating an art magazine?
Julian: NewSugar started off with a desire for a self-promotional project that would give me an opportunity to get my teeth into something juicy design wise, and, network with other creatives from around the world. So far it's delivered on both of those desires fantastically!
Welshie: I would imagine that publishing a magazine (whether online or offline) is a laborious and stressful process that requires strong leadership along with super organizational skills and patience. How do you manage to keep it together?
Julian: Yup, although, I'm not so sure about the strong leadership! It's only me working on the mag and I hardly ever do what I tell myself to do. I've already had two verbal warnings.
There is certainly a lot more to do than I initially thought but I'm getting a method in place now which has sped things up no-end.
And, in terms of keeping it together… if I had strict deadlines it would be a mad struggle. I try to get a mag out about every 6 weeks and that basically floats to fit around my paid design/illustration work. It makes the process a bit less hectic but I still usually worry about how long it's been between issues.
Welshie: From the 1st issue down to the latest one, we're really liking the art direction New Sugar is heading. Do you collaborate with other graphic designers at all before deciding on an issue? If so, what have you learned in the process?
Julian: Not really although a few of the more recent covers have been collaborations. I am having them created by different artists with no brief other than space for me to add the logo and artists etc. There is definitely no shortage of offers either but I am pretty sure everyone wants to design a cover at some point! Maybe I should do a mag completely made up of covers?
[Editor's note:Â Julian's lightning quick update. He answered his own question.] I jokingly said 'maybe I should do an issue made entirely out of covers'. Well, I twittered the idea and the response was good so I made a new page on the site with a brief and re-posted it on Twitter… Madness followed! The post has been re-tweeted all over the web and I made about 150 followers in a couple of hours… so, the short of it is thanks to the interview  there will be a special edition 'Covers' issue.
More here: http://newsugar.co.uk/covers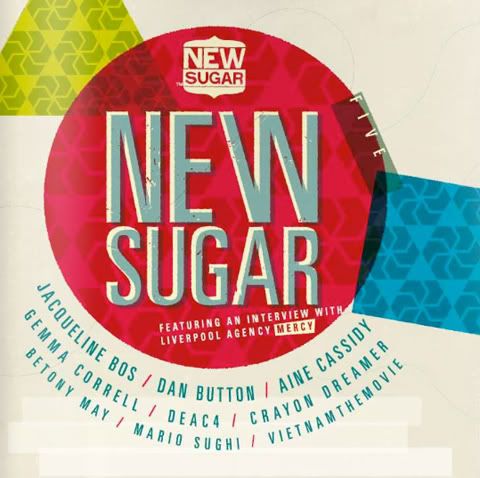 Welshie: New Sugar is a free downloadable PDF file for now. Along with running Whyisbox, publishing a magazine takes a lot of time and energy. Is New Sugar going to remain free in the foreseeable future or do you have plans on monetizing it eventually?
Julian: I am already looking at several possibilities for NewSugar not least the next generation of its new website. Its future holds loads more 'sticky' content, artist profiles, games (like the Monstar! project we are currently running) and social network elements. Once NewSugar.co.uk is a place to visit daily, rather than just a portal to access the magazine, there is more potential to get sponsors involved. I'm not ruling out ad revenue but the key is to make sure those ads or links add some value to the magazine and its brand. You won't be finding any McDonalds adverts on there for sure.
The mag itself is also prime real estate for advertising and it's is an avenue I am looking at but again value is key. I don't want people not reading the mag because a single ad spoils the nature of the project.
I would say though that the mag will always be free!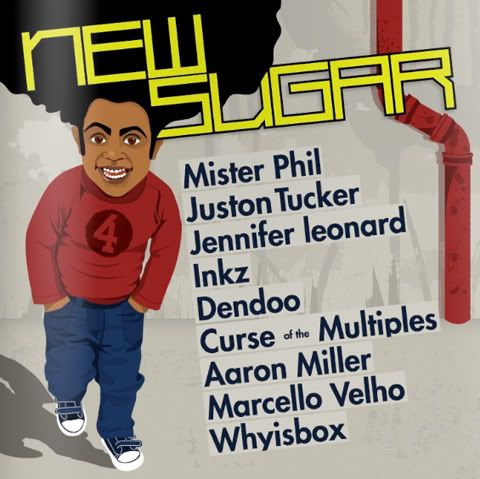 Welshie: Since New Sugar is freely available for download, how do you track your subscribers?
Julian: Stats are totally key, even as a self promotional project. There is not much point if no one is looking at it. Too much work involved for that.
I use several methods (Google Analytics/server side analytics etc.) and I absolutely love checking how many people are viewing issues. The fact that tens of thousands of people over 100 countries have done so to date just astounds me! If there was ever an argument for digital over print… an instant global market is a pretty strong one.
Welshie: You're also the founder of Whyisbox, an online creative studio, which has been growing steadily in recent years. Business is good, would you say? Are you now able to quit your day job and concentrate on Whyisbox and New Sugar full time?
Julian: Whyisbox is my day job anyway but NewSugar has started wrestling more and more of my attention recently.
You never know, maybe NewSugar will be my day job eventually and Whyisbox the side project. As long as I am working on creative projects, whatever they are 'it's all good' as they say.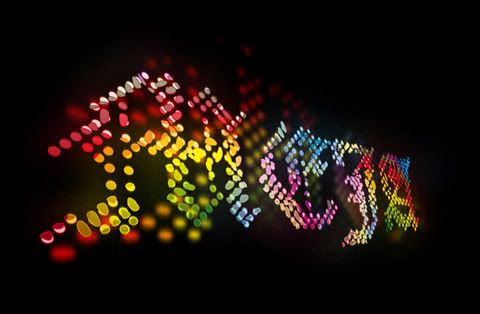 Welshie: Okay, it's time to shine, Julian. Let's say I'm a potential client, pitch Whyisbox to me. Why choose your services over the competition? What can Whyisbox do for me and my business?
Julian: Well… basically Whyisbox is made of about 84% magic and 16% awesome. It actually says on the box that "Using Whyisbox will boost your kudos… guaranteed". Granted, I wrote the box but it's probably true.
On a less serious note I hope the design/illustration work speaks for itself, but, the end product is only half the story. My clients keep coming back because the process is enjoyable too. I am always the consummate professional but creative projects should be fun and working with me is an honest, exciting and pleasurable experience. *This information was also copied from the box.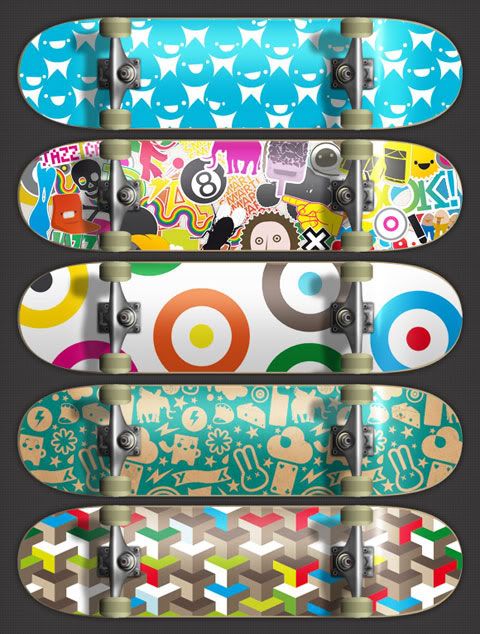 Welshie: You've featured and interviewed tons of wonderfully talented artists on New Sugar already. If there's any one artist you're looking forward on having on the future issues of New Sugar, who would it be and why?
Julian: Maybe someone globally famous who hasn't actually been discovered yet… It would be nice to say 'you saw them here first'. If you are that person… send us your subs!
Welshie: What has been the best advice given to you while pursuing art that you can share with our readers aspiring to become graphic designers/illustrators?
Julian: "I don't like it…" Man, that phrase just made me want to prove a point.
Not that it's advice really but the most useful tool in my motivation box is 'jealousy'! There is so much great stuff around in the creative world to be jealous of and the more I see work that makes me wish I had done it, the more I want to drive myself. It's a kind of positive jealousy.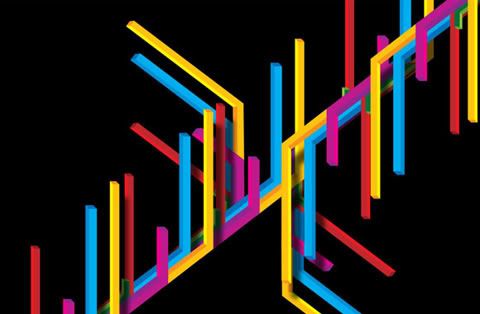 Welshie: Like all things artsy, graphic design is an ever changing field. Change is good but not necessarily easy to deal with. How do you keep up with the times when clients ask for a new style and at the same time staying true to your own style?
Julian: I don't really suffer from that it's probably fairer to say that I struggle with repetition. If a project comes up that doesn't inspire me to create something unique it's much harder to focus on. That's not to say that I won't give 100% but it's the challenge of pushing my style that makes it all worthwhile. Or, maybe I just suffer from an over active boredom gland?
Welshie: Sometimes, things don't always go according to plan. With deadlines on your projects looming and unwanted distractions vying for attention, how do you cope with situations like that?
Julian: I find it more difficult if I have only got a few things to do. It's the crazy deadlines that get me working effectively. I definitely need a little panic to get things done. I'm starting to see a bit of a pattern here!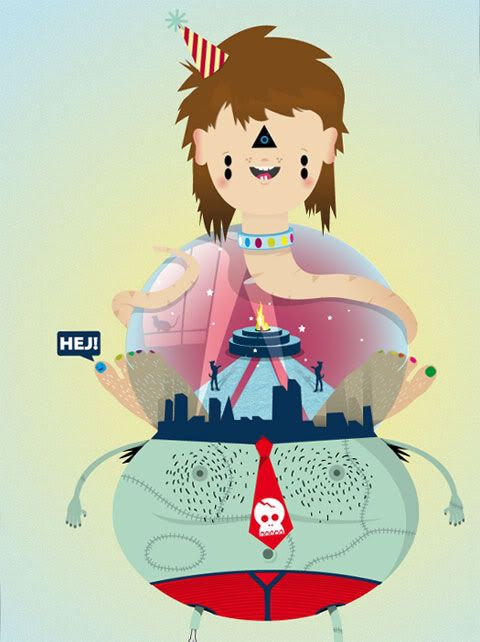 Welshie: Does talent run in the family?
Julian: Lol, talent eh! You old silver tongue you! They might actually read this so I'm going to say… No. 
Welshie: You primarily work in digital medium. Satisfy our geeky curiosity and tell us how your studio is set up. What gadgets do you plan/wish on getting in the future to ease your work flow?
Julian: PC based is right. I've used Mac's but they are back to front. They sure do look real shiny but all the functions are in the wrong place…
*Please send all pro Mac complaints to Bill@microsoft.com
On top of my PC I use a Wacom tablet which I use for everything. In fact I may have forgotten to use a mouse it's been so long.
As far as future gadgets go I basically want everything that's coming out about a week before it does. To say I am a gadget freak is understating it slightly.
Welshie: What's your goal for New Sugar in the next 3 months, 6 months, 12 months?
Julian: 3 months = New NewSugar website launched.
6 months = Awesome sponsors and monetisation.
12 months = Buy Vogue and include it as a NewSugar fashion supplement minus the adverts so it should only be about 4 pages.
Welshie: What's next for Julian James? All shameless promotions is welcome.
Julian: Who knows… and that's half the fun of it!
In the very near future I have a bunch of interviews and articles coming out in several blogs and magazines; like Computer Arts and Computer Arts Projects which I am chuffed about especially seeing as they are the same mags I read when I started out.
NewSugar has some exciting stuff in the pipeline including a book for the 'Monstar!' collaborative project we are running on the site; submissions still welcome. I am also hopefully putting together a joint one off issue of the mag with a print zine called Middle Boop. At the moment it's still at the planning stage but I'm pretty excited about that. There are also a couple of NewSugar events to look out for.
More info on future happenings will appear on the new site, my blog and twitter (where I practically live these days – @newsugar) when they are confirmed.
Then there is my clone to finish too.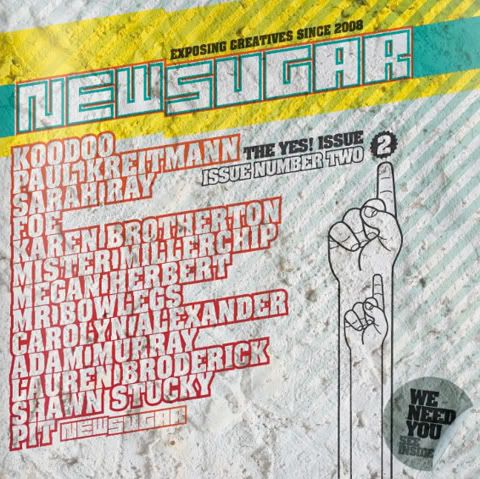 Well, there you have it. We'd like to thank Julian James for taking time out of his ridiculously busy schedule to do this interview. Don't forget to head over to New Sugar to download a copy of the latest issue.
Links here:
http://newsugar.co.uk/
www.whyisbox.com
www.newsugar.co.uk/monstar/index.html
www.newsugar.co.uk/covers