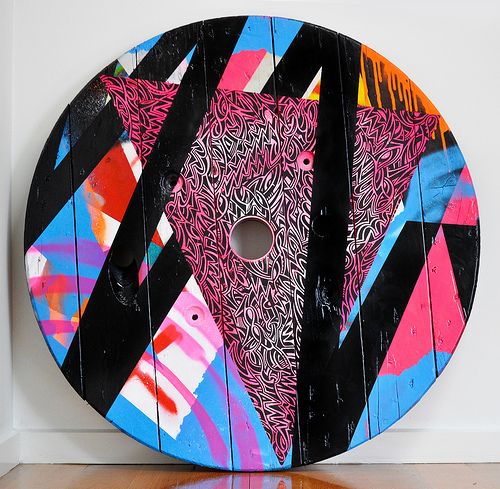 Originally hailing from Perth,
Ollie Lucas
is a visual artist now residing in Melbourne, Australia. Previously his work revolved around the cerebral phenomenon 'pareidolia'. Pareidolia put simply is seeing objects in clouds or recognisable objects in patterns or surfaces. His surfaces are created through swirling colours blended together to create a dynamic moving base. It's upon this base that the intricate pattern work is applied through drawing. Using an almost meditational concentration the drawn pattern work combines with the colour to create a complex and detailed abstract surface for the eye to explore. However since moving to Melbourne Ollie has been bombarded with streets filled with a combination of graffiti, street art and urban decay. '
My work has always had graphical and clean elements to it. A past life as a graphic designer is to blame there'. 'Exposure to the graffiti scene in Melbourne has made me question harmony in my work, I have a love for filthy, dirty and weathered paint splattered surfaces, but at the same time I crave clean, modern, hardline geometrics.' 'This is what drives my practice, combining two visual elements that are polar opposites in search for a harmony that i may never obtain.
'