Felt-making is an art form that dates back as far as in the Sumerian era. It's a laborious endeavor wherein you poke the wool fiber into a desired shape with a sharp needle until your hand ultimately becomes numb. It's crazy work but very, very satisfying and rewarding. With all the history behind it,
Zoë Williams
takes it up to another level. There is something incredibly alluring yet filled with impending danger about Zoe's animal creations. She uses  a hands-on craft technique  to mimic that enticing and fluffy effect on her sculptures. You see them hanging on the wall and you can't help but feel the urge to touch them. You don't, of course, they might bite you. Keep an eye out for more of her amazing work in upcoming shows and projects. But first, read the interview below.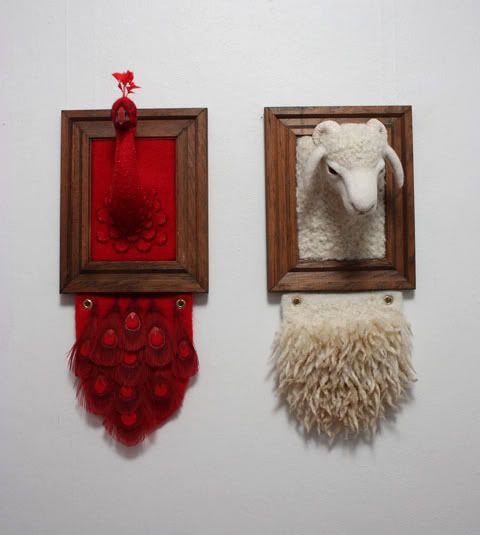 Honey: Can you tell me what it was like for you when you were growing up? Did you have people in your life that you would say had some influence on what you are doing now?
Zoë Williams:
 I was born in New Orleans, which was a lively and interesting place to grow up. As a child I loved animals – at first mostly cats and horses, but many, many others soon followed. Likewise, dreams and their secret meanings have been integral to my life ever since I can remember; I've always dreamed vividly and I am fortunate that I almost always remember my dreams in great detail. I have my parents to thank for exposing me to the work of Carl Jung at an early age, and getting me in the habit of talking about, sometimes writing down, my dreams. They also took notice of my artistic inclination early on, so I took a lot of art classes as a child: painting, pastels, clay, glass, you name it.
Honey: When did you start felting wool?
Zoë Williams: 
Not until mid 2008. I have a BA in Fine Art, but my focus in school was New Media; I did a lot of collaborative, interactive and installation work. I graduated in 2005, and just a few months later Hurricane Katrina hit and I was forced to relocate. I moved to Seattle, where I found myself somewhat disconnected from just about everything, including art. Then I remember a coworker at my part-time job buying a needle felting kit and I knew right away that I wanted to try it too. I got one of my own and I think that weekend I made my first rabbit.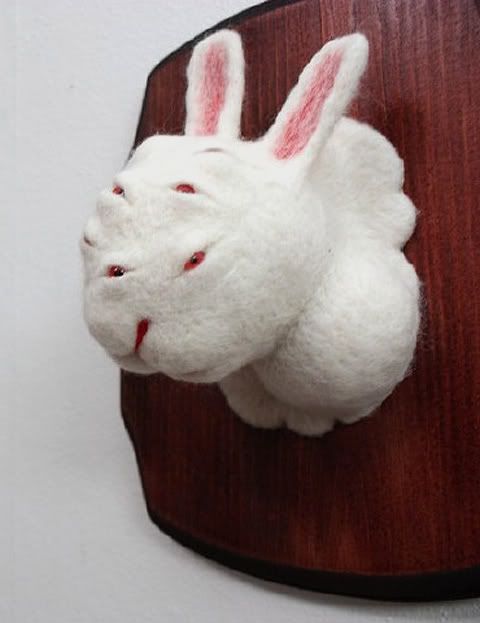 Honey: How do you go about creating the different animal characters in your work? Do you have a system that you use in order to propose your work and to actualize it?
Zoë Williams: 
My first sculptures were all white rabbits, based on a dream I'd had of a powerful and wise spirit rabbit. After the rabbits, I started producing pieces that were direct translations of dream images into sculpture; the Red Peacock and White Ram are examples. Nowadays I am more deliberate about the symbols I choose for my pieces. I am taking what I have learned from years and years of introspection and applying it to the waking world.
Honey: Most of your character sculptures are both cute and creepy at the same time. Do you feel a kinship with your characters then?
Zoë Williams: 
Very much so. I like to think of each piece as part of my own personal mythology: the significance of aspects of my life that is usually only revealed in moments of synchronicity and in dreams.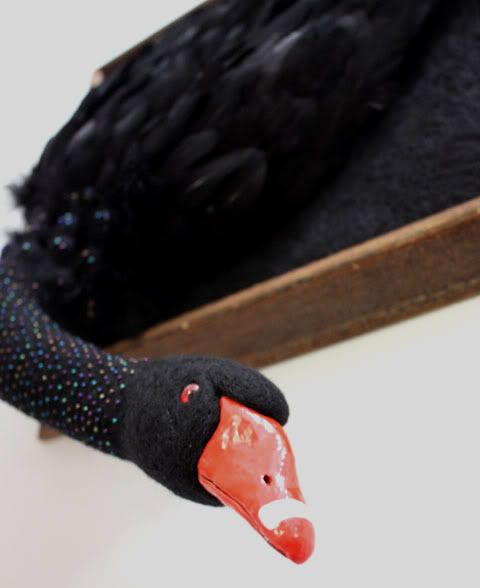 Honey: About how long would a typical sculpture session last?
Zoë Williams: 
There is the occasional felting marathon, but mostly I stick to a couple of hours every day. Needle felting is tedious work, so it's "slow and steady wins the race". Finger stabs are what happen when you work too fast or too long!
Honey: Do you work on multiple pieces at the same time?
Zoë Williams: 
I do if I am working on a series – it helps to maintain cohesion and uniformity. Otherwise, I usually work on them one at a time. The process has distinct phases, so I think moving on to the next step is part of what motivates me to keep working.
Honey: What is it that primarily fuels you to create? That is, where do you find your inspirations?
Zoë Williams: 
Aside from my dream world, I get a lot of inspiration from nature. I still love animals as much as, if not more than, when I was a kid. I spend a lot of time looking at pictures of them.
Honey: What unnecessary work interruptions and trivial matters could you live without?
Zoë Williams: 
I could definitely do without the "administrative" end of things – taxes, gallery applications, etc. The marketing aspect of the profession can be fun in its own way, but sometimes it does feel like I spend more time conducting the "business" of being an artist than I do actually making art.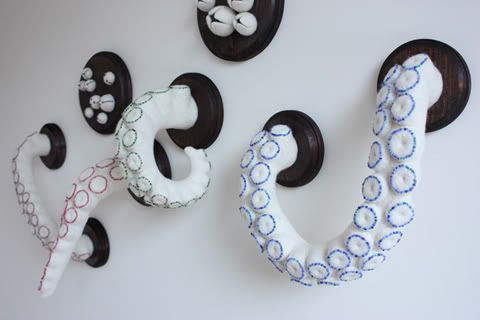 Honey: Do you experience ups and downs in your productivity?
Zoë Williams: 
I certainly do. There is the inevitable lull after finishing a piece, but there are also times when other things get in the way and there is simply no time left to work. I recently ordered a new set of business cards, which turned out really nice, but designing them ate up an entire day!
Honey: How did you begin reaching out to the art market?
Zoë Williams: 
I apply to group shows at galleries that I think might be a good fit for my style or subject matter. I'm not super outgoing, but I force myself to go out to openings and meet other artists as often as possible. I can't overstate the importance of networking.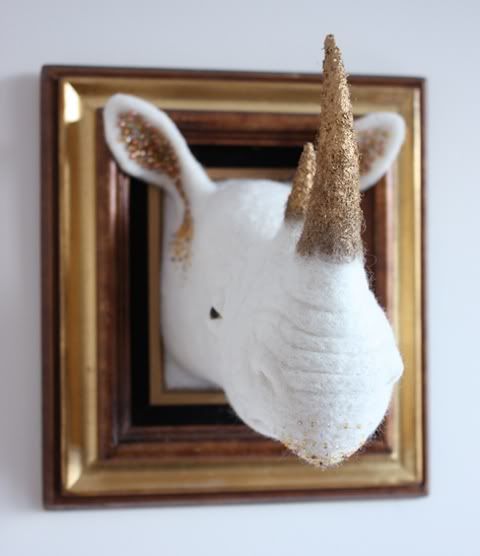 Honey: How do you see your work in the future as far as the art scene?
Zoë Williams: 
Gallery representation is certainly something I am interested in, but finding the right match is complicated. I'd like to see myself hitting it big someday – fame and fortune and all that, but realistically I'd be happy with enough income to quit my part time job. Don't get me wrong, I am happy with my part time job (and the freelance work that I do), but my artwork is what drives it all.
Honey: What is the best way anyone could compliment you about your work?
Zoë Williams: 
My favorite compliments are when people ask for my expertise. There is a lot of "learning on the job" to making art, so when I can share something I've learned with someone else, I feel that not only am I helping that person, I'm making a small contribution to the sum of human creativity. I like it when people ask for an interview too.
Honey: Which contemporary artists do you find most interesting?
Zoë Williams: 
There are so many talented people making wonderful things that it's hard to know where to begin. I love miniatures, so I'm fascinated by the work of
Patrick Jacobs
and
Thomas Doyle
. I'm also a pretty big fan of Matthew Barney's "Cremaster Cycle".
Honey: What are your present major projects and ventures? What's the next step for Zoe Williams?
Zoë Williams: 
Here are some places where you can see my work now, and over the next couple of months: April 6th – May 4th 
G40 Art Summit
(various locations) Richmond, VA 
Link here
 / May(opening reception May 11th, 2012) 
Buddy's Den
 TT Underground 91 Second Avenue, Lower Level, New York, NY 10003 
Link here
/ June (opening reception June 6th, 2012) 
The Guild of the Black Eagle 5
 Fuse Gallery 93 2nd Ave # A, New York, NY 10003 
Link here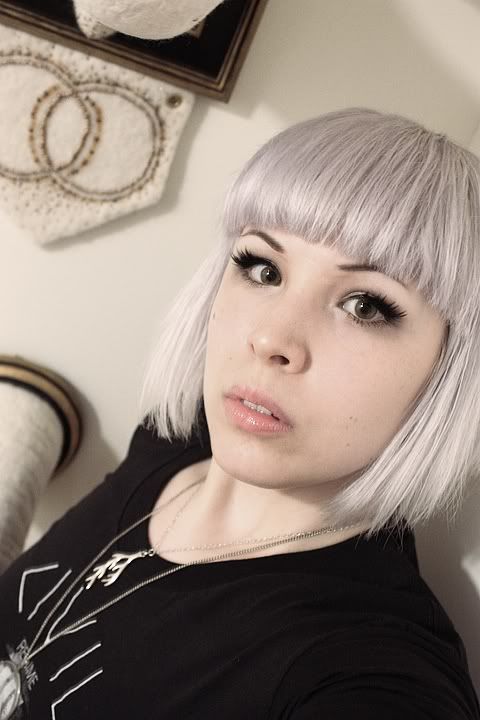 Honey: Thank you's? Shoutouts?
Zoë Williams: 
I would like to thank my friends
Samantha Levin
,
David Hochbaum
,
Jeff Faerber
,
Allison Sommers
, and everyone else who has been so kind in welcoming me to NYC. I would also like to thank all of the gallerists and curators who have invited me to show artwork, and the bloggers who have shared my work on the internet – it means the world to me! Links here:
http://zoewilliams.net/
http://twitter.com/x03