If a one liner was needed to sum up
Chor Boogie
's art work it would have to be "
conscious reawakening
". His work proliferates through nearly every dimensions of his life, from his art murals, graffiti to his home studio and his faith. And that faith seems to be the central point in his work. But it wasn't always like this. Back in the days when he was intensely curious about things, he began experimenting with drugs and had run-ins with the law. Those experiences made him realized what he had to do. Originally a self-taught artist, he was determined to get his life back together and through his love of art and faith, Jason Hailey was reborn as Chor Boogie. Through the spray painting medium, Chor is now getting his proper due. His art is almost flawless, design and execution brilliant, colors applied are intensive, the impact is undeniable. Considering the fact that in the era of computer rendering magically stored on disk, this is a big deal. If it was an isolated incident, that would be one thing, but every single painting is amazing - so where does that leave the rest of us artists? In the dust. In short, this guy rules. So ladies and gents, here's
Chor Boogie
as interviewed by
Evans Mbai
, Sweet Stations's newest addition.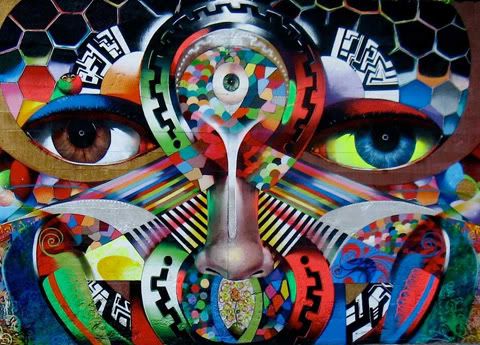 Evans:
How did you become interested in graffiti/spray paint culture and how do you think people view them differently from the traditional art, for instance, fine art?
Chor Boogie:
Well I was introduced to it through the streets .. so basically once I got a visual taste for it ..it just clicked and I told my self I was going to paint like that one day especially starting my creative process since the age of 5.. but once I hit the spray can it was all over with (in a good sense of the term).. and basically that was one of my goals as far as spray paint goes.. taking it to new heights and new levels ..i.e technical skill and style .. to prove to the contemporary /fine art world …we are the same .. so now a days things are changing and I feel there are a lot more open eyes /minds to it rather than 20 30 40 years ago..
Evans:
What kind of materials do you work with?
Chor Boogie:
I work with a special designed brand of spray paint from Barcelona Spain called The original Montana or MTN for short from whom am which I am supported by ..so MTN Colors ..Spray paint No additives No preservatives..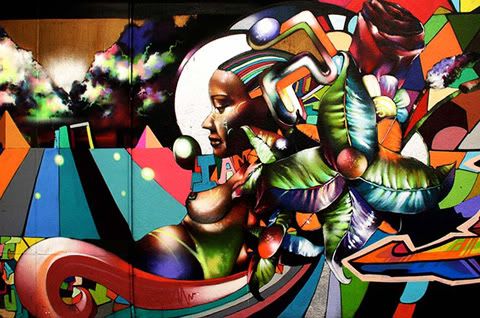 Evans:
Eyes seem to be key in a lot of your work. Has your opinion/philosophy of them changed through the years?
Chor Boogie:
My opinion and philosophy changes about everything I do .. it may still carry its weight in its own perspective as far as the philosophy goes.. but things change constantly.. but when it comes to the eyes the eyes to me are the windows to the soul .. the visual keepers of our perception and how we view reality and un reality.so the point of the eyes is to basically open them ..
Evans:
You've, "been to hell and back" a few times. What/who was your guide back?
Chor Boogie:
Well first off ..let me give the credit to the most High… whether it be a he or she.. then comes my self for taking that first step back to reality ..and my artform at the same time ..a combination of all 3 helped me find my way back..
Evans:
In 2008 you were commissioned by, Century Ginwa in Xi'an China, to paint a mural for the Beijing Olympic Games. How did it feel to contribute to a global event?
Chor Boogie:
It was one of the best moments of my life .. to be apart of something this amazing being over in china and understanding a totally different culture aside from ours.. and really catching the feel of the environment so it can help influence or inspire my style to create something spectacular for the Olympics.
Evans:
I rarely use the word "cute" to describe anything else other than Asian girls, but, your Boogie Birds are just that. Will there be anymore cute creatures?
Chor Boogie:
WOW they are like cute asian girls… lol Actually they are the power of cuteness and the beauty of simplicity at the same time basically the simple side of what I do… as far as any other cute ones .. things change so I'm sure it will happen..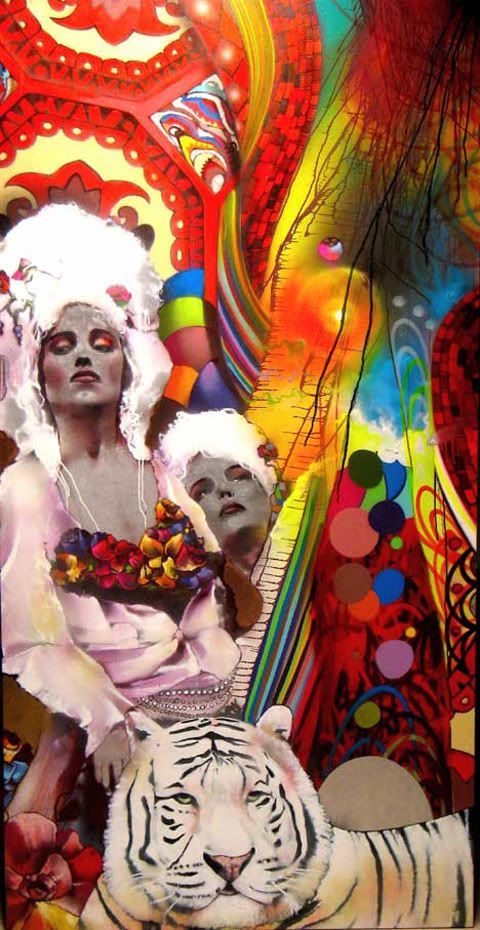 Evans:
You're a man well educated in colors, have your ever seen a color outside the spectrum?
Chor Boogie:
I wouldn't say well educated ..just a man that appreciates colors.. But to answer your question … yeah .. the color of nothing which is the spectrum outside the spectrum..
Evans: Out of everything so far, what's your favorite thing that your work has appeared on?
Chor Boogie:
There is allot of those may be to many .. pretty much every accomplishment is my favorite .. but every year it gets bigger & better..
Evans:
Who are some of the people who've had the biggest influence on you and your work?
Chor Boogie:
From a spray paint point of view… Phase 2 and Vulcan fas of today from a historical stand point… Caravaggio
Evans:
How would your life change if you were no longer allowed to create art?
Chor Boogie:
If that where in the cards then that's the hand that's dealt to me .. so I would hate it but eventually have to accept it.. something worth not thinking about..
Evans:
Where do you see Chor Boogie in 10 years?
Chor Boogie:
As 1 of the biggest names in the art world.. but overall 10 years from now ill still be painting..
Evans:
What about L.A. gives you the most pride?
Chor Boogie:
Nothing.. But ego and pride everywhere dictates the flow of every ones life..
Evans: There are a lot of vandals out there creating art -illegally. Do you have any advice to help them reach a respectable position similar to yours?
Chor Boogie:
The choice is yours you can get with this or you can get with that.. BLACK SHEEP
Evans:
Any shows or projects your excited about?
Chor Boogie:
There are allot ..but they are top secret evidence and documents .. Lets just say some major museum action.. and major deals to be signed ..
Evans:
Any last words? Thank you's?
Chor Boogie:
I would like to thank my sun for being my sun ..i just found out after 14 years I have a sun.. and its pretty awesome .. I also would like to thank my Grand pa John for being such a cool Grand pa ..and rest in paradise.. I also would like to thank my family and fans for putting up with all my shit.. Lets keep the success going for all of us .. and always remember to always ..stay …shining.. We'd like to thank Chor Boogie for this awesome interview and while you're at it, check out his cool art portfolio at
www.chorboogie.com