Great paintings are more than just applied techniques perfected over time. The best portrays emotion and context, and give us a window into the subject's world. This leads us to the beautiful work of painter
Jeffrey Batchelor
. His ability to paint is only secondary to the way he captures his unique vision. Jeffrey's artwork not only captivates the viewer's attention visually, it also makes one think and feel. Exactly how art is supposed to be. Here's a good interview by Honey, if I may say so. Now go ahead and read along to get an inside look at the mind of a "magic" realist painter, Mr. Batchelor.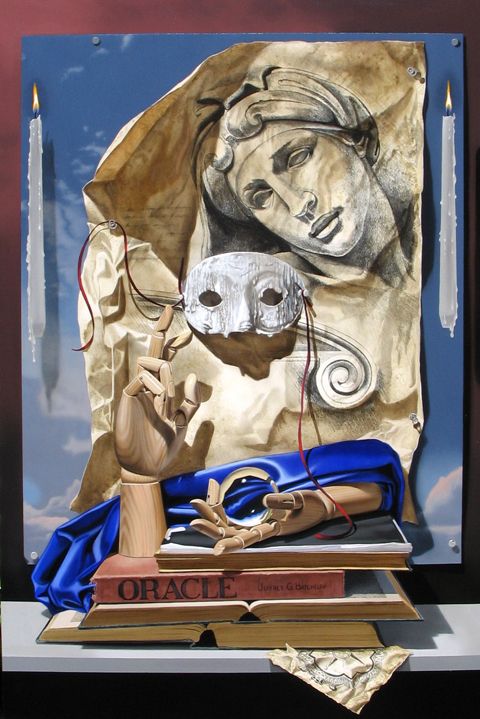 Honey: Hello Jeffrey. Please tell us a little bit about yourself. When did you know you wanted to paint?
JB:
My talents and abilities began to present themselves at a very early age. I began drawing at about age three and it was apparent that I was far advanced beyond significantly older children. I always knew that I was going to be an artist of some kind. I studied in college and grad school to that end, but it wasn't until I got my first job as a scenic artist that I knew I was going to keep a paintbrush in my hand for the rest of my life.
Honey: Where did you grow up? What was your childhood like? Was art a 'thing' that was encouraged in your family?
JB:
I combined these questions for expediency' I grew up in quasi-rural North Carolina, a slight, artistic, nearsighted, acne-prone child, fourth in the line of five. My father was a raging alcoholic; my mother had been hospitalized twice for depression. I was frequently the focus of my father's violent outbursts because of my sensitive nature. I was scholastically gifted, but fell deeply into depression " I didn't know at the time; it was the only life I knew " and lagged somewhat behind. The only positive reinforcement I knew as a child was my art. To note: I have greatly recovered from this unfortunate beginning to my life. I am a grateful member of Al-Anon, the program for friends and family members of substance abusers. I also found contact lenses and a great dermatologist! I now embrace the sensitive nature for which I once was abused, and employ it generously in my art and in my relationships.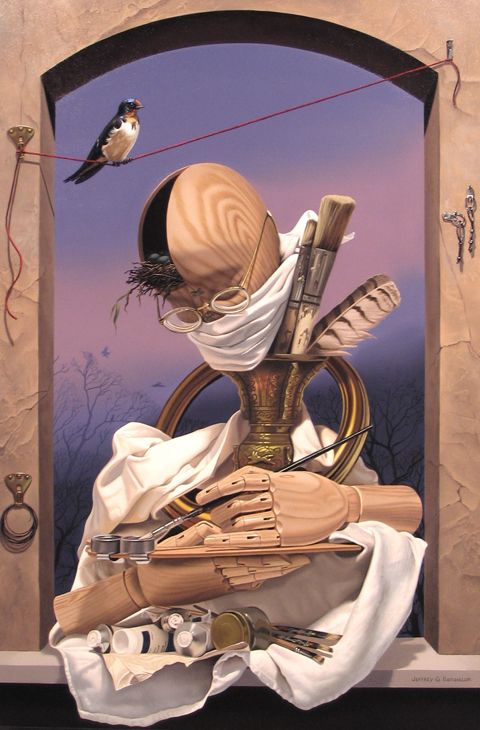 Honey: How often do you paint?
JB:
I approach painting as a job, which it is for me. Monday through Friday I usually paint from about noon until 8 PM. I seldom start earlier because I find myself better suited for either paper work in the morning or the gym, and my most productive times are always in the afternoon or early evening. I will frequently add a few hours on the weekend, especially if I'm nearing the end of a piece.
Honey: What style would you most strongly classify your paintings?
JB:
I like the term, 'Magic Realism' but most people more easily identify with Surrealism so that's fine. People unquestionably recognize that there is something 'going on' in my paintings. They can then decide if they want to put the pieces together or not. I do enjoy realism for its own sake, and do sometimes paint in that manner. When I do this, like in the glass still lifes, I create a sort of visual journey for the viewer. Glass exists as a composite of its surroundings " whatever is in front, behind, or around. I try to take people on a trip through abstract shapes and twisting forms to find the objects, light, and shadows that make the glass there.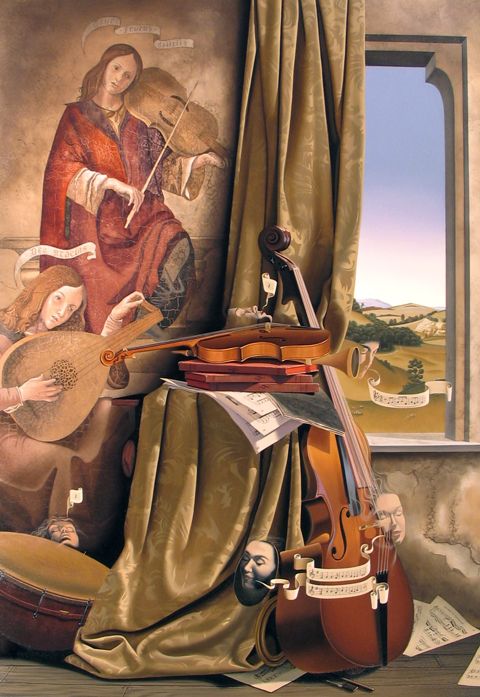 Honey: Tell us, how do you manage to achieve such realism in your works? Would you give a brief walk through your work flow?
JB:
Working in oil, I start with an underpainting, usually a flat color, but sometimes I'll do a shaded blend. I always mix in some type of drying medium, either liquin or cobalt dryer, so that whatever I paint is dry the next day. I work in layers, so the next day I'll add additional shapes or shading, being very careful to form sharp or soft edges as need be. I always work with a super-soft bristle brush to lightly go over the paint in appropriate places to blend or shade.
Honey: How long would you say it normally takes you to complete a piece from beginning to end?
JB:
It depends on the size and complexity " Small pieces, 16" X 20" or so, take about two weeks. Some of the bigger more complex still lifes with lots of cut crystal can take three to four months to complete. An average surreal painting, about 50" X 40" or so, will take five to seven weeks.
Honey: How important is the clarity of concept to you, prior to starting an artwork? Where does your subject matter come from?
JB:
I really stand out here, I think. All of my surreal paintings now start out in written form. I get an idea " sometimes from a meditation " and I write it down on a post-it or piece of paper. I'll later come back to it and begin writing the concept, describing all of the images and their relationships to each other. More ideas, images, concepts will develop during this process. I find the writing process reaches deep into my imagination, opening up possibilities. Once the piece is in progress things always change, but I need that fertile beginning with countless branches of opportunity to start strong, focus, and keep excited about my direction.
Honey: Are you picky about when and where you paint?
JB:
I am. I need good lighting. I need a place away from distraction. I need music or certain non-confrontational talk radio. I need my palette set up a certain way, lit a certain way, a certain place to put my brushes and clean them. As tight a painter as I am, is this a surprise to anyone??? Yes, I have control issues. *Grins!*
Honey: What do you think sets you apart from other artists?
JB:
Certainly technique. There just aren't a lot of artists that work in my kind of detail and realism, if for no other reason than that it dramatically cuts down on the dollars per hour factor. That's the first thing people notice. Second, as I mentioned earlier, my surrealist pieces demand that the viewer looks beyond the imagery to discover the meaning beneath the surface. They must engage their minds.
Honey: What is it that you love about your artworks?
JB:
I love that they are all a sincere part of me. I have remained true to my vision and ability without losing the capability to be open and grow. My development has come from the courage to step away from myself, regard myself honestly, and return more aware and focused.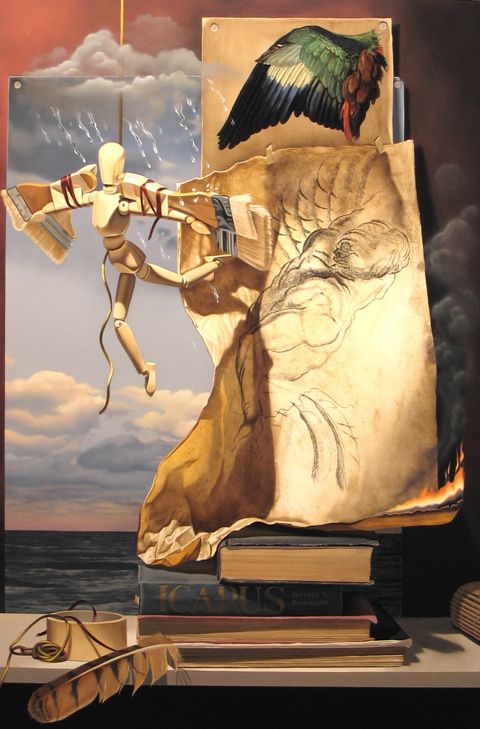 Honey: Can you describe a day in the life of Jeffrey Batchelor? Tell me about your average day.
JB:
Hmmm I'll pick a gym day: I have coffee in bed with a cat on my lap while reading my meditations. I clean up, dress down, and I'm off to the gym on my bike for a 1 to 2 hour workout. Then I come home, have lunch (usually around 10:30/11 and usually my home made soup!) and then it's up to the studio. Streaming music or talk, I'll paint until 7:30 or 8, breaking occasionally for a little snack (my home made hummus, for sure!) or for a few minutes at my piano. Then I'll clean up, make dinner, clean the kitchen, shower, share some time with my partner, and then off to bed. All boring, predictable, serene I provide for myself a well-designed routine that cares for my mind and body and leaves me free to create and work on my art.
Honey: In your opinion who are the most overrated artists of the 20th century?
JB:
Girlfriend, I ain't touchin' that one! I will respect any artist who honestly works to the best of his ability, whether I like his work or not. Sometimes, marketing is the primary focus of an artist, and if that's the case then hes a business man, and more than likely will admit it. I think all artists would be better off if they managed themselves with some degree of business-like professionalism. I know this: I can find as many people as I want who will tell me I'm a genius, and just as many who will tell me I'm crap. As long as I respect myself and love my work, that's all I need. And I'll admit, it's nice to have ardent fans and collectors that admire and respect my paintings.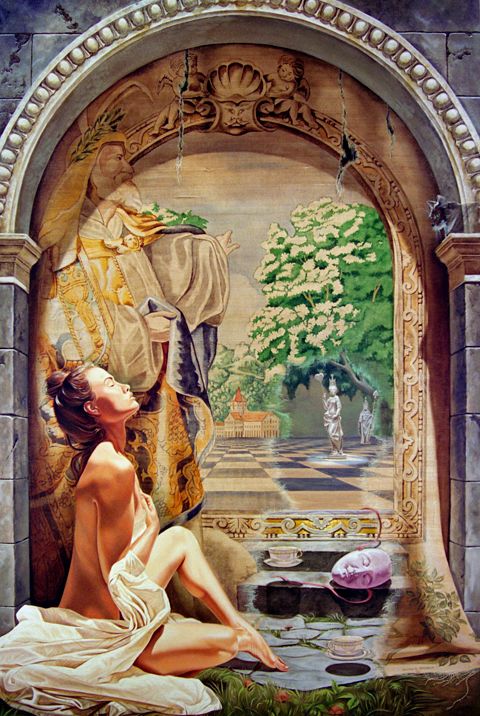 Honey: If you could take home ANY painting from ANY museum, which would you choose and why?
JB:
I love this question!!! GOD! OK, I don't want a painting; I want a sculpture, and I didn't see it in a museum, I saw it at Art Basel In 2004? 2005? I went to Art Basel in Miami and saw for the first time the work of
Evan Penny
I was STUNNED. I went home and wrote about it. His sculptures are distorted, often oversized busts, full, or partial figures made of aluminum, silicone, pigment, and human hair They are FRIGHTENINGLY real, horrifically distorted and merciless in their depiction of aged imperfect skin and form. I LOVE THEM. The piece I would love to own would be "
Self
" 2008, a bust back study. The attention to detail is nearly beyond comprehension, and once inside the alter-reality of his world, I relish at the loving crafting of imperfection, and the gentle sincerity it brings. It shows the true beauty of humanity, the creation of God, embraced by man.
Honey: How would your life change if you were no longer allowed to make art?
JB:
No art, i.e. no music, painting, or sculptures I would become a psychologist. I spend much of my focus on opening people's minds to my vision through my art. If I couldn't do this, I would want to open their minds more directly, for their own vision of themselves. I would move from a more passive outreach to a more active one. I want to make a difference for people, have them think in a different way. And I'd probably have more cats *Wink!*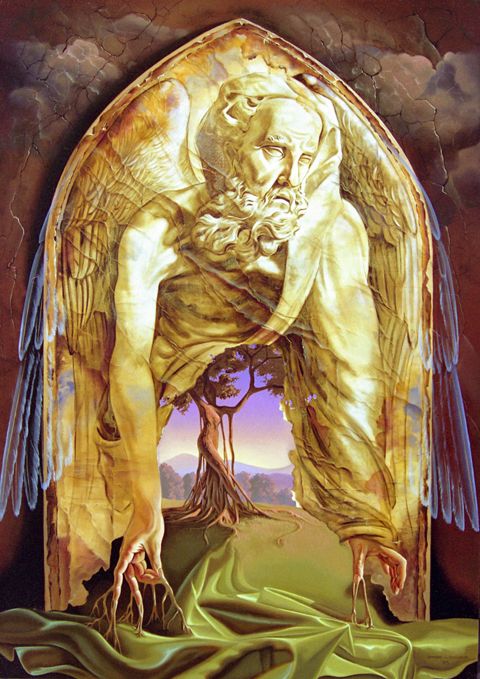 Honey: Any current or future projects that you could tell us about?
JB:
I'm loving this magical still life series that I'm doing. I have a plan to do a large piece based on The Last Supper fresco by Da Vinci. It would be set up and apportioned just like the fresco, but comprised of my wooden hands, gloves, drapery, hats, goblets, plates, masks, all imitating the poses of the characters in the original.
Honey: Final remarks? Anything else you want to say?
JB:
It is not easy to be a full-time professional artist. We are self-employed business men and extremely vulnerable even in the best economy. However, I get to do something that I truly love, and with every piece I put out I realize that I will have a voice in centuries to come. Long after I'm gone the creations of my hands will reach the eyes and excite the minds of people I'll never know. This is an awesome gift. I am honored to have it and I never, never take it for granted.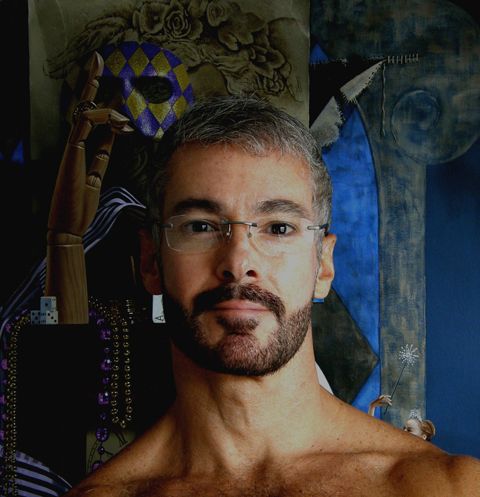 Links here:
http://www.jeffreybatchelor.com/
http://www.sweet-station.com/blog/?p=5431
http://www.sweet-station.com/blog/?p=5836